Banks are not lending to Main Street
Tuesday, Nov 10, 2009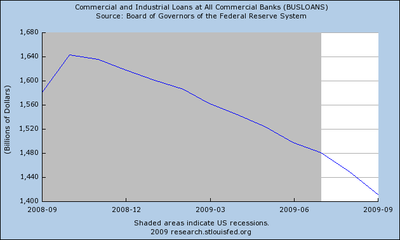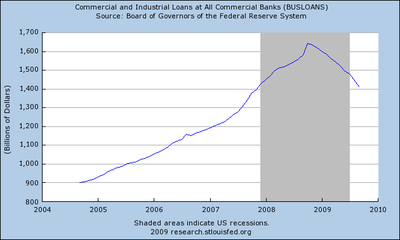 Federal Reserve Bank of St. Louis, Series: BUSLOANS, Commercial and Industrial Loans at All Commercial Banks, http://research.stlouisfed.org/fred2/series/BUSLOANS?cid=49.
While financial institutions including Citigroup Inc. and Bank of America Corp. have received more than $200 billion in capital from the government, they are limiting loans at a time of mounting unemployment, rising company bankruptcies and increasing regulatory oversight. Commercial and industrial lending has dropped 17 percent since October 2008, according to Federal Reserve data...

Much of the policy makers' focus is on credit for small businesses, which have generated 64 percent of net new jobs during the past 15 years, according to the government, and can't tap the capital markets for finance, unlike their bigger brethren...

Banks are receiving "mixed messages" from regulators and policy makers, says the banker association's Chessen. "On the one hand we're being told to be more cautious and increase capital, while on the other we're told to lend more aggressively," he says.

Supervisors have increased oversight, questioning loans already on the books when they come up for renewal. "It's the worst of back-seat driving," Chessen says.
Geithner Saying Be Like Buffett Can't Make Banks Lend, Rich Miller, Bloomberg, November 9, 2009, http://www.bloomberg.com/apps/news?pid=20601087&sid=a7qDuw9C0YY4&pos=7.
Ultimately lending to businesses was the primary argument for the bank bailout.
U.S. President George W. Bush signed a $700 billion financial-market rescue plan into law, calling it a "decisive action to ease the credit crunch that is now threatening our economy."...

"There were a number of members of Congress who had voted no that I talked to," Obama said in Glenside, Pennsylvania.

"And I think more than anything what they wanted was some assurance that this $700 billion was not going to a few banks but that in fact, that it is designed to ensure that the credit markets are working for Main Street."
Bush Signs Bank Rescue to End "Threat to Economy," Christopher Stern and Laura Litvan, October 4, 2008, http://www.bloomberg.com/apps/news?pid=20601103&refer=news&sid=ad4VH6tMLj9Y.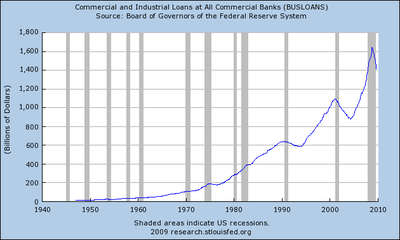 So where is all the money? Banks have $850 billion parked at the Federal Reserve, earning interest. Because of [fractional reserve banking](http://en.wikipedia.org/wiki/Fractional-reserve_banking) at approximately a 10% multiplier, that's a potential $8.5 trillion parked at The Fed. The Federal Reserve [pays](http://www.newyorkfed.org/research/staff_reports/sr380.pdf) banks interest on their excess reserves held (depending on the interest rate).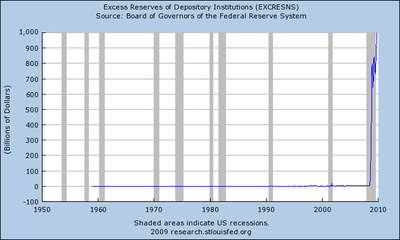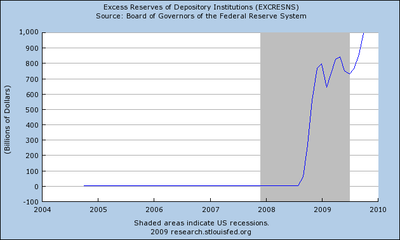 Federal Reserve Bank of St. Louis, Series: EXCRESNS, Excess Reserves of Depository Institutions, http://research.stlouisfed.org/fred2/series/EXCRESNS?cid=50.