Life Expectancy in the United States
Thursday, Jul 23, 2009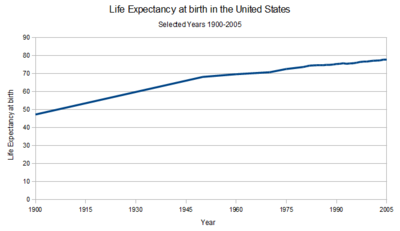 Health, United States, 2008, U.S. Department of Health and Human Services, Centers for Disease Control and Prevention (CDC), National Center for Health Statistics, 2009, http://www.cdc.gov/nchs/data/hus/hus08.pdf#026 (data: ftp://ftp.cdc.gov/pub/HealthStatistics/NCHS/Publications/HealthUS/hus08tables/table026.xls).
Life expectancy is the average number of years of life remaining to a person at a particular age and is based on a given set of age-specific death rates, generally the mortality conditions existing in the period mentioned.
Also includes a table of life expectancy for "Selected countries and territories, selected years 1980–2004."