Unemployment
Monday, Apr 06, 2009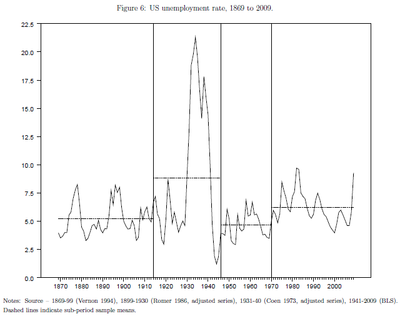 Has the Fed Been a Failure?, Selgin et al, Cato Institute, Page 75, December 2010, http://www.cato.org/pubs/researchnotes/WorkingPaper-2.pdf.
Graph of the % of unemployment of "the civilian noninstitutional population 16 years and over" since the start of the recession: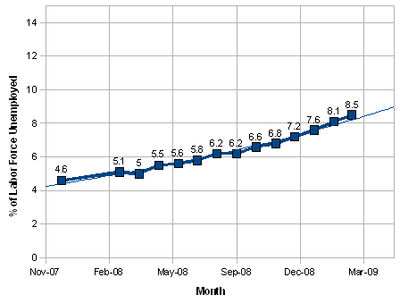 Source: ftp://ftp.bls.gov/pub/suppl/empsit.cpseea1.txt.
Also found news here: http://www.bls.gov/ces/home.htm.
Also, at the time of our January 2009 estimates we assumed that the US unemployment rate would peak in 2010 only to 10% (an estimate now shared by the OECD for the US and most advanced economies), But there are now signs that the unemployment rate will peak closer to 11% if not higher (and the current unemployment rate is already above 15% if you include partially-employed workers and discouraged workers who left the labor force).
According to press reports the IMF may allegedly be increasing its estimate of global bank losses to $4 trillion, a figure consistent with estimates by a variety of independent bank analysts, Nouriel Roubini, Professor of Economics at the Stern School of Business at NYU, April 10, 2009.
How the Government Measures Unemployment: http://www.bls.gov/cps/cps_htgm.htm.
Alternative measures of unemployment:
The real US unemployment rate is 16 percent if persons who have dropped out of the labor pool and those working less than they would like are counted, a Federal Reserve official said Wednesday.

"If one considers the people who would like a job but have stopped looking -- so-called discouraged workers -- and those who are working fewer hours than they want, the unemployment rate would move from the official 9.4 percent to 16 percent, said Atlanta Fed chief Dennis Lockhart.

...

Lockhart pointed out in a speech to a chamber of commerce in Chattanooga, Tennessee that those two categories of people are not taken into account in the Labor Department's monthly report on the unemployment rate. The official July jobless rate was 9.4 percent.

Lockhart, who heads the Atlanta, Georgia, division of the Fed, is the first central bank official to acknowledge the depth of unemployment amid the worst US recession since the Great Depression.
Breitbart, Real US unemployment rate at 16 pct: Fed official, August 26, 2009, http://www.breitbart.com/article.php?id=CNG.4452bed82adf3124e5884678e236d7fb.361&show_article=1.